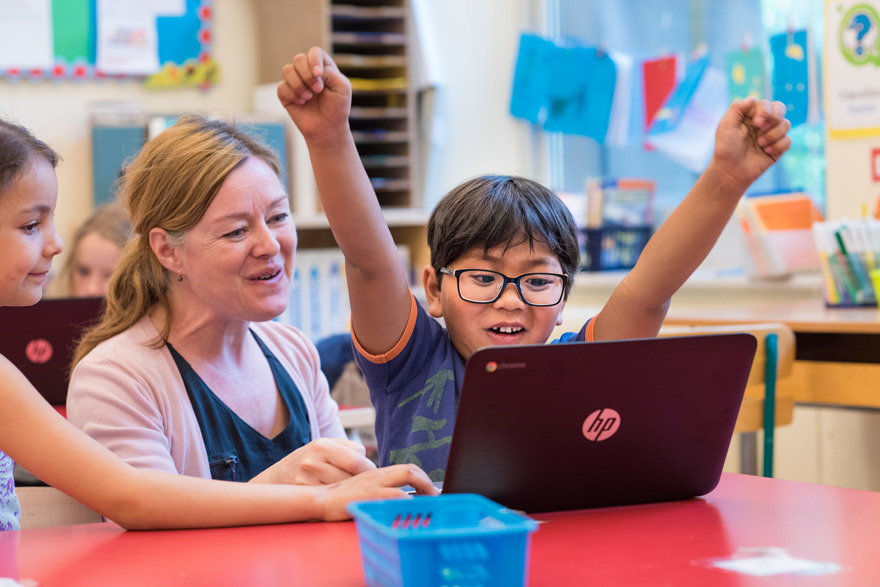 A small, friendly school with a global outlook
The Vasa International School of Stockholm is an International Baccalaureate, (IB), World School that provides an inspirational, multicultural education at the heart of Stockholm.

The School creates challenging and inclusive learning experiences with highly competent staff that encourage pupils to reflect, inquire and take action.

This enables pupils to experience new situations with curiosity and confi-dence, and inspires them to become engaged, life-long learners who consider themselves global citizens in a multi-cultural and ever-changing world.
Strong academic foundations
We provide strong academic foundations – a passion for learning, developing a wide-range of skill sets, celebrating creativity – to ensure that pupils meet and exceed international educational standards.
The School is intrinsically international. Pupils and staff alike come from diverse backgrounds, thereby providing an enriching educational experience – one that equips children with the skills and qualities they need to navigate and succeed in the global arena.

We strive to create supportive classroom and school environments, where we help pupils to fully realise their potential for learning, creativity, and personal development.

Our experienced, passionate teaching staff seek to challenge, support and care for pupils, instilling in them respect and discipline – qualities that are reflected in the school's overall environment. Indeed, these values are key elements of the United in Values of Respect & Success of Education initiative with which we work towards the IB Learner Profile and IB Attitudes programmes. Further to this, we help pupils nurture self-respect, dignity, and to show concern and respect for others.

Finally, we also encourage positive lifestyle choices with an emphasis on physical exercise, healthy eating, mindfulness and happiness.
We're delighted to announce that as from the autumn term 2016, Europaskolan will change its name to become Vasa International School of Stockholm. We believe that the name change defines the School, its mission and identity, clearly and imaginatively.
Read more »
Ahead of our historic name change, we have now launched our brand new website, which naturally has a new web address. Not only does our new site feature our new name – The Vasa International School of Stockholm – but it also includes more information about school life, admissions, our various programmes, and our Eknäs Gård site.
Read more »
Following fantastic efforts from all those involved, pupils are now able to visit our Eknäs Gård site more frequently, and enjoy a greater variety of practical activities. In recent weeks, we have completed work on several outhouses including one that provides shelter for our growing number of chickens.

Read more »
In 1995, Rita Ahonen and I opened the School with years one to six and after-school activities. Believing that we had a great deal more to offer the Swedish school system, we set up the Docendo Disciumus foundation in 1997 with the aim of establishing the best school in Sweden.

We were qualified teachers from Estonia, and we were convinced that we could combine the best from the Estonian and Swedish school systems, and give the concept an international feel – we learnt from other school systems to then craft something unique.

Orderliness, homework and a supportive study environment, wellbeing and respect: a school for ambitious families who value an excellent education. Our marking system and rules on behaviour resulted in criticism from the Swedish National Agency for Education, but our approaches are now accepted.

Our decision to focus on languages and maths was the result of a number of
factors. We felt that maths teaching in Sweden was not up to international standards and therefore needed strengthening. Once learnt, language skills are the last of all skills one forgets: a language one has learnt always stays with you, and can always been improved later in life. In 1997, we spoke five languages ourselves, and felt that learning languages was enriching and it was therefore important to learn more languages.

The Swedish curriculum is fine, but it felt as thought the International Baccalaureate, (IB), was a superior alternative as a planning tool, holistic thinking and an approach used in more than 100 other countries.

In August 1998, we started with 56 pupils and finished the academic year with 65. In August 1999, the School had grown to more than 120 pupils, and after a few more years the School was full in every year from 0 to 9.

In 2006, the School was separated into two. Our school buildings were sold, but we found two new premises. Years
0 to 5 moved to a beautiful old school building on Luntmakargatan, and years 6 to 9 moved to Gotlandsgatan, which was also soon expanded to years 0 to 5.

Years 6 to 9 started on Luntmakargatan in 2014, and the School launched an English-speaking course that exclusively follows the IB programme.

Today, our schools maintain high teaching standards, are orderly and promote school development on an international level.
Anette Parts
Head of the Board
Vasa International
School of Stockholm
The School takes its name from a defining chapter of Swedish history – the Vasa period – during which elements of the Swedish state were established under King Gustav Vasa, or Gustav I, (1523-1560). During his reign, Protestantism was introduced in Sweden, and the monarchy acquired the church's once considerable power and wealth.

In 1544, Sweden became a const-itutional monarchy and the House

of Vasa was established. Gustav I has been described as the founder of modern Sweden, and even "father of the nation".

His name is commemorated in a number of ways to this day: a portrait of Gustav I graces the SEK 1,000-note, and Sweden's annual Vasaloppet – the world's largest cross-country ski race. His name is also given to an area of Stockholm – Vasastan – where the School is located.