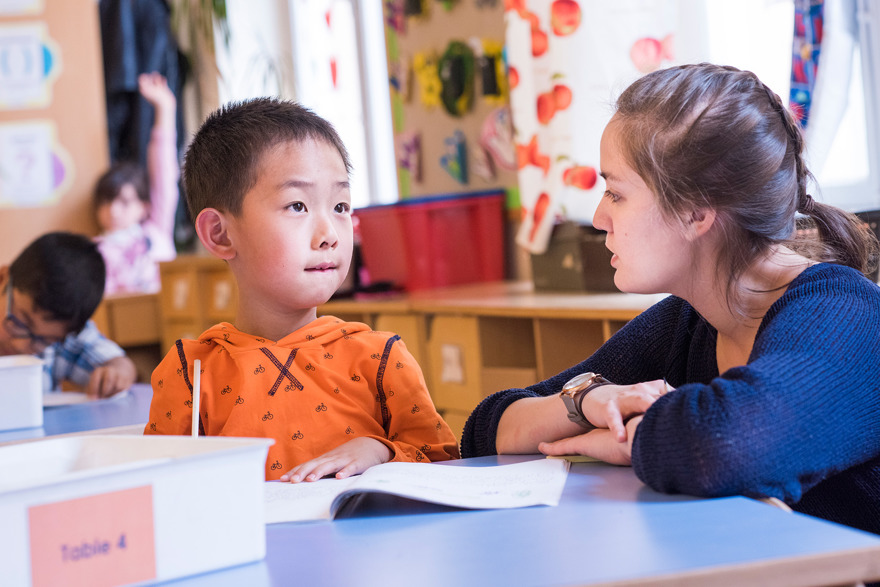 The International English programmes
In addition to its bilingual curricula, we offer an International IB programme within the framework of the IB Primary Years and Middle Years programmes, (PYP and MYP). The School is IB-certified for PYP, and hope to be IB-MYP authorised in 2017.
The PYP caters for pupils aged between 5 and 11. It focuses on the overall
development of the child as an inquirer in the classroom, and in the world at large. The programme includes six specified subjects - language, maths, science, social studies, arts, personal, social and physical education – and emphasises interdisciplinary skills and independent inquiry.
PYP focuses on a range of areas related to pupils' overall development, including: academic, social and emotional well-being; independence and the ability to take responsibility for their own learning; understanding the world and to function comfortably as part of it; establishing personal values centred around a global outlook and consideration for others.

One of the most significant and distinctive features of the IB PYP are its six transdisciplinary themes. These provide IB World Schools with the opportunity to incorporate local and global issues into the curriculum, and effectively allow students to go beyond the confines of learning within conventional subject areas.

The six themes are: who we are; where we are in place and time; how we express ourselves; how the world works; how we organise ourselves; and sharing the planet.

The 'Exhibition' is important part of the PYP. In the final year of the programme, students undertake a collaborative, interdisciplinary inquiry process that requires them to identify, investigate and propose solutions to real-life issues or problems.

As the culminating experience of the PYP, the Exhibition offers students an exciting opportunity to demonstrate independence and responsibility for their own learning.
Vasa International School of Stockholm in Vasastan offers fully equipped PYP
and MYP classrooms, a library, a science lab, a music room, a lunch room, and ample space for its various student groups, teacher-student, and student councils. 'Annexet' is our two-storey venue that hosts the Music and Art classes.

Our gym facilities are at our new sports hall on Döbelnsgatan, where we offer a full range of gymnastics and performance arts activities to our pupils.

At our Johannesplan site, PYP 5 and 6, and all MYP pupils, have access to the School's design studios that offer a full range of art, woodwork and textile courses. Our aim with these courses is to promote pupils' creative processes through working with design and form first-hand: a true celebration of human ingenuity. At the same site, on the second floor, we have our School Health Team, the school nurse, the school counsellor and the school doctor.
The preIB class with students of ages 5-6 is also located at Johannesplan.
As its name suggests, Vasa International School of Stockholm, is located in the Vasastan area of central Stockholm. Our relatively low number of students –around 200 – contributes to a particularly friendly atmosphere where all are welcome.
International staff with an international outlook
Our highly international teaching staff bring together extensive experience and a variety of backgrounds, offering teaching of the highest international standards, and the innate capacity to broaden the students' understanding of the world.
We encourage regular communication between parents and teaching staff. This is done primarily through face-to-face contact and email. Parents are also able to review what topics their children are studying with the help of SchoolSoft, (see link at the top of the landing page of this site).

The School also runs an active mentor programme in which each pupil is assigned a member of staff whom they can approach if they have questions or concerns about their studies, and personal lives.

Students are encouraged to take an active role in forming day-to-day life at the School through the Student Council. The School also holds regular parents' meetings where parents, students and staff discuss the students' development.
MYP is for students aged from 12 to 16, and encourages pupils to make practical connections between their studies and the real world. It includes eight primary subject areas: language acquisition, language and literature, individuals and societies, sciences, maths, arts, physical and health education, and design.

Students in years four and five select six of these eight subject areas. In addition, students also complete one interdisciplinary unit, which involves at least two subject areas, every year. All MYP students are also required to submit a course work project on a topic of their choice.

According to IB, the "MYP aims to help students develop understanding, their emerging sense of self and responsibility in their community."

The MYP is taught according to guiding principles such as teaching and learning in context; conceptual understanding; approaches to learning, (ATL); and service as action, through community service.

Teaching and learning in context
Learning is provided context, and connected to students' own lives and their experience of the world. With the application of global contexts, MYP students are encouraged to develop an understanding of "their common humanity and shared guardianship of the planet" by exploring the following areas:
Identities and relationships
Personal and cultural identity
Orientations in space and time
Scientific and technical innovation
Fairness and development
Globalisation and sustainability

Conceptual understanding
MYP students use concepts to explore issues and ideas of personal, local and global significance, and examine knowledge holistically. The MYP prescribes 16 key interdisciplinary concepts, along with related concepts for each discipline.

Approaches to learning (ATL)
ATL helps students to "learn how to learn". A common theme to all MYP subject groups, ATL provides a basis for independent learning, and encourages the application of knowledge and skills in previously unfamiliar contexts, thereby encouraging the development and application of students' social, thinking, research, communication and self-management skills.

Service as action
All IB students are encouraged to be caring members of the community who demonstrate a commitment to service: a desire to positively impact the lives of others and the environment. Students "take action" when they apply what they learn in the classroom – and elsewhere – to everyday life.

Learn more about the MYP on the IB website here.
Discipline and
mutual respect
While we give our students the freedom to learn and explore independently, we also believe in the importance of discipline and mutual respect. To ensure pupils are polite, confident and respectful young world citizens, we work constantly to create an environment where students have, and show, genuine respect for teaching staff, fellow pupils and themselves. The school has an inclusive environment where there is a high level of tolerance for individual differences.
Outside academic activity, we encourage students to raise funds for a variety of charitable causes.
As part of the PYP 6 Exhibition and the MYP Community Project, students are
also encouraged to take action in addressing issues that involve the local
community.
Under Swedish law, all schools that have at least five pupils who speak the same language other than Swedish or Swedish minority language, these children must be offered classes in their mother tongue. As part of our dedication to the IB practice of promoting internationalism, and in addition to our strong English and Swedish bilingual learning, we actively dedicate resources to providing a large number of lessons in pupils' mother tongues.

We currently run 22 mother tongue groups, in which pupils receive weekly lessons from their respective native language teachers after normal school hours. Please note that class sizes vary.
Important dates for the Academic
Year 2017/2018
Term starts: Wednesday, August 16
Half-term break, (höstlov, week 44): Monday, October 30 to Friday, November 3
Last day of term:
Friday, December 15

Term starts: Tuesday, January 9
ASC Study Day: Friday, January 26
Half-term, (Sports break, week 9): Monday, February 26 to Friday, March 2
Staff study days: Friday, March 16 (Romme trip)
PYP Exhibition (week 16) Tuesday April 17 to Thursday April 19
Easter break (week 14): Friday, March 30 to Friday, April 6







School closed (Bridge day):
Monday, April 30
School closed (May Day):
Tuesday, May 1
School closed (Ascension Day)
Thursday, May 10
School closed (Bridge Day):
Friday, May 11
School closed (National Day):
Wednesday, June 6
Closing ceremony:
Friday, June 15